Note: Click on any of the BLUE text for more details. _______________________________________________________________
Each month discover Robert's new tips for getting the most from your photography.You'll get unique tips on fitness, better photo taking, Photoshop editing, meeting new people, photo adventures, best books to read, money-making techniques and much more! Delivered right to your mailbox each month for less than a fast-food soda! Stay informed and stay in touch with the yearly subscription that saves you money! Real paper and ink newsletter…delivered right to your mailbox each month, just… $18 per year!
________________________________________________________________
Digital Photography Field Guide (on CD)
Learn how to take great photos, anytime, anywhere! General Photography Tips, Beach Photos, Desert Photos, Downtown Photos, Fireworks Photos, Landscape Photos, Mist and Fog Photos, Night Photos, People and Pet Portraits, Rain Photos, Snow Photos, Sport Photos. Print out just what you need for amazing success on your next photo adventure! Perfect pics every time!  You get the CD mailed to you for only…$14.95 +s/h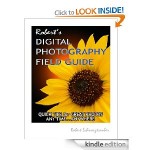 Kindle Version. Load it on Kindle and carry it with you so you'll never be without your guide! Only $8.97
_______________________________________________________________
Already a good photographer? Just need some tips on how to edit your photos for dramatic results? Robert's best selling book has sold around the world, offering Photoshop users simple, easy-to-use, step-by-step "recipes" for creating great photos. Robert shares the tips that led his photos to earn top prize in international photo competitions.  Satisfaction Guaranteed!  Just… $19.95 +s/h…Now with 2 Great Digital Bonus Gifts!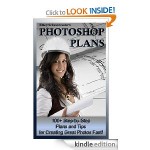 Kindle Version (Photoshop Plans) Same great content, new name! Only $5.00

_____________________________________________________________
Power, Profit, and Privilege…the Photographer's 7 Secrets
Photographer's have always had a certain mystery about them. They mingle with celebrities, stars, and all the "beautiful people". They go places we only dream of going to and get models to do things we'd never dare ask.
This is a fun and easy read. You might even have a good laugh or two as you look at familiar things with a whole new perspective…as you look with "The Photographer's Eye".
If you love taking photos, or think you'd like to, this is just be book you need. Opens the door to the exciting and secret world of the photographer…a world of Profit, Power and Privilege!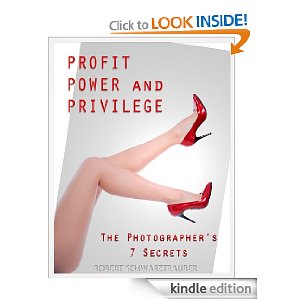 Now on Kindle… for just a buck!
______________________________________________________________
Change Your Life...in a Flash!
Looking for a positive change in your life? Tired of the same old routine? Ready to step into a new and better life? Then this program is for you! Two audio CD's packed with life-changing tips for using photography to conquer your demons. Listen as Robert shows you how to set life changing goals then step into action. You get quick tips for choosing the best digital camera for you. Robert then explains how to take better photos, start your own photo biz, edit and share your digital photos, and finally, how photography might be the only total mind-body fitness program you'll ever need!  Anyone can, change their life in a flash!  Only…$39.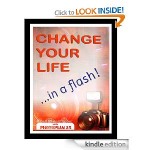 Kindle Version available at $8.97
____________________________________________________________
Companion book to the Change Your Life in A Flash audio program. All of the narrative from the audio discs plus more… in book format for easy reference!
The Ultimate Drug-Free Medical Miracle? If you suffer from depression, chronic pain loneliness, boredom, isolation, fatigue, or just need to lose weight… New study of over 100 amateur photographers reveals surprising health and fitness benefits from taking digital photos! Discover how to turn your camera into the Ultimate, Total-Mind-Body Fitness Machine …then maximize your results by combining 3 common digital devices. It's the Photo Fitness Phenomenon! Don't fight technology…use it for good! This book is packed with case studies, new survey result and simple action steps you can immediately use to get results fast while having fun! If you're ready for change… Change Your Life…in a Flash! with Photography! A great book for just $15.95 now at Amazon.com
Now available at Amazon.com
___________________________________________________________
PhotoPlan 25
It's the whole Enchilada!
The Complete Guide to Success in Photography.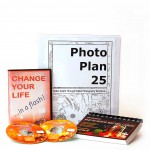 Includes "Change Your Life in a Flash" the two CD program for improving the quality of your life through photography, plus the full  written transcript,  all the proven "Plan for Success" worksheets, How to Choose the Best Digital Camera for You:Without Breaking the Bank, How to Take Better Photos Instantly, The Judge's Simple Tips for Prize Winning Photos, Internet Sharing and What to Watch Out For, plus "Photoshop Recipe Cards", (Robert's best selling book for simple Photoshop Editing), you'll also get one years subscription to the "healthyPhotographer" newsletter and 5 free personal photo critiques from Robert to help you quickly improve your skills and know you're on the right track. Your photos will be the envy of all your friends, Guaranteed!  The ultimate feel –good photography experience , all for just $249.00!
For application to this program, email: robert@totalfitnessphotography.com

================================================================
In addition to my own materials, let me tell you about some other resources that might help you too. There's a lot of junk being sold that's just a waste of your money (and I've sure wasted a lot on junk before I got here!). But this stuff listed below works! …based on my own hard earned, much spent, personal experience. I mention these resources not to make a few coin (I will) but to help keep you from wasting money on stuff that's junk like I did when I was just getting started. Sure wish someone had shown me these shortcuts.

=================================================================

If you're FRUSTRATED trying to figure out how to get good lighting and create professional portraits…don't worry, because you're not ALONE!
The good news is you can get by with cheap flash units when you have a good teacher to show you how.  This program is taught by Joe Marshall, a 30 year veteran photographer. Here's some of the common questions Joe explains in his simple way…
What lights and equipment do we need and what to Buy?
What's better…Umbrellas or Softboxes? (or what the heck are they?)
What is better Continuous Lighting or Strobes?
How to use my flash on the camera to eliminate shadows and get professional shots?
How to get professional results using a (1) light set up?
How to use a Hairlight and should I?
How to add more than 1 light?
How to Use Gels?
How to create low key and hi-key shots?
The lessons are in small bite-size pieces and straight to the point…so you get results fast. Plus…you get assignments to practice what you've learned.
If you're like me…I learn best by doing it. That's what's great about a workshop. Joe creates simple lighting recipes and has you use them to create your own portraits.
It's pretty Brilliant and this format has been proven to help people learn better. Best of all you can learn at your own pace right from your living room.
(Joe has personally coached me and improved my photography a ton! Don't waste your time or money if just getting started…get this course first.)
_________________________________________________________________
AMAZON.COM is a great place to find deals on all your equipment need. Who knew?
Cameras, flash, tripods, bags, lenses, all kinds of other accessories. When you use this link to my healthyPhotographer PhotoMart you'll go right to the photo section at Amazon.
________________________________________________________________
If you think Photography would be a great way to earn some extra money or be a full-time business…YOU'RE RIGHT!
But how's a newbie like you going to compete? How are you going to start making money quickly? Easy!
Scott Voelker has come up with an amazing, quick-start program. He's an amazing teacher, his materials are top-notch and proven to work. He always over-delivers.
(Secret- in addition to Scott, you'll get access to a forum, a community of helpful folks of all professional skill and talent levels who will help you and gently critique your work so you get better faster before you ever have to show your work to a client. This is worth 10x the price of the program) Scott gave me my start, and I know he'll help you too.
_______________________________________________________________
DIGITAL PHOTOGRAPHY SUCCESS and ADVANCED DIGITAL PHOTOGRAPHY

Great program for anyone interested in taking better digital photos.
While Joe Marshall and Scott Voelker focus on the business side (primarily portrait work) Amy Renfrey shows you how to get maximum enjoyment and improvement in every area of your photo taking. Create breathtaking landscapes, people photos, pets, wildlife and more.
Amy helps you master the one big secret, and in less than 7 days your dull, drab, boring photos are gone forever. Your new digital photos amaze all of your friends!
_______________________________________________________________
TRICK PHOTOGRAPHY and SPECIAL EFFECTS
Create Pictures so Unique, Powerful, and Artistic, pictures that Get People to Look Twice, Gasp in Amazement, and Wonder…."Just HOW Did They Take THAT Photo?"
Go wild! These are great techniques for folks with or without photo editing skills.
For inspiration and education, everyone needs to check this out. I loved it!
______________________________________________________________